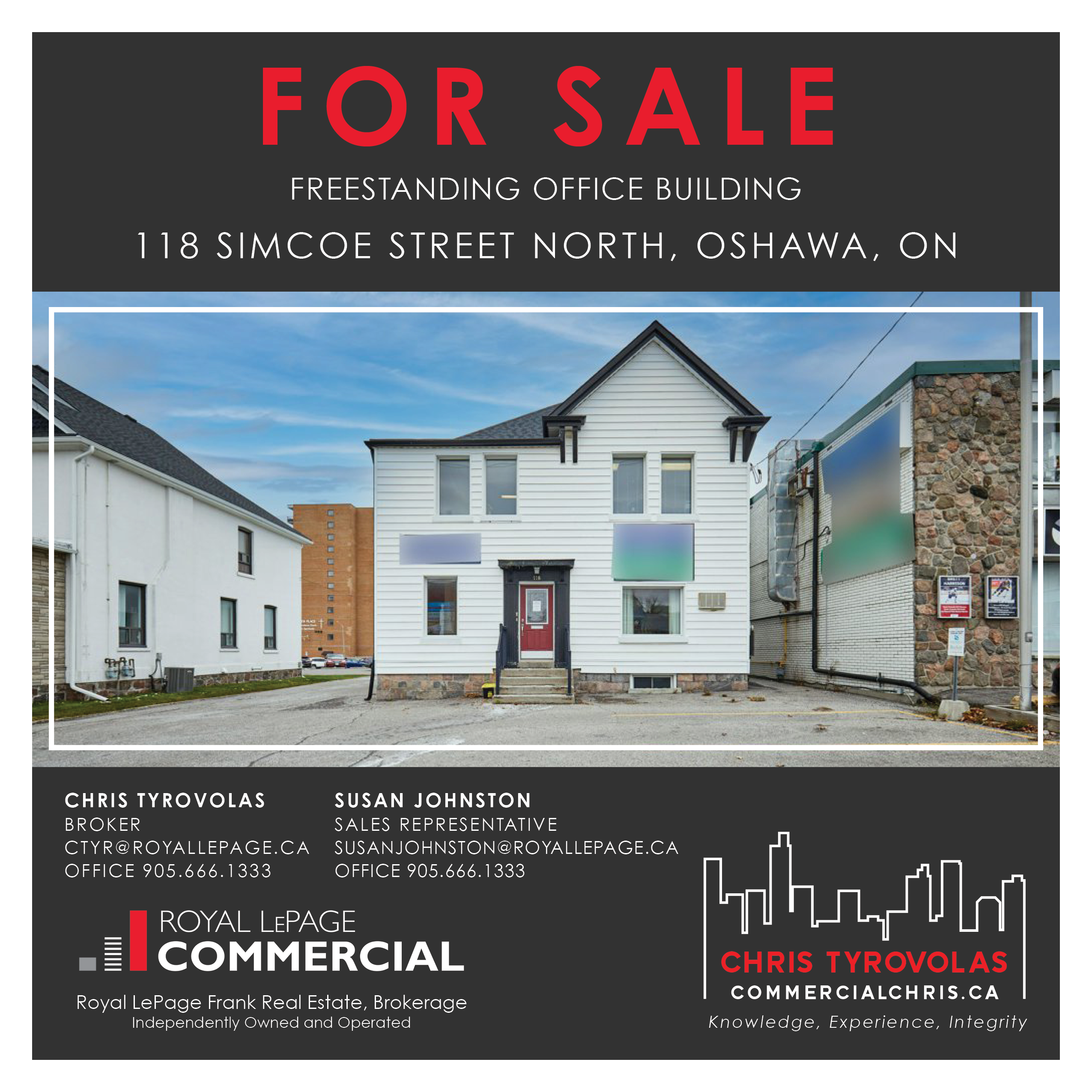 For Sale | 2,472 SF Total Freestanding Office Building | Oshawa, ON
2,472 SF Total Above Grade With Full, Unfinished Basement For Storage
2 Self Contained Suites
Separately Metered - Gas, Hydro
2 Furnaces, 2 A/C, 2 Electrical Panels
Onsite Parking for 14 Vehicles 
Zoned CBD-B (Attached) 
Hot Water Tank - Owned
For complete details on this property, please reach out;
Chris Tyrovolas
Broker
ctyr@royallepage.ca
Office 905.666.1333
Susan Johnston
Sales Representative
susanjohnston@royallepage.ca
Office 905.666.1333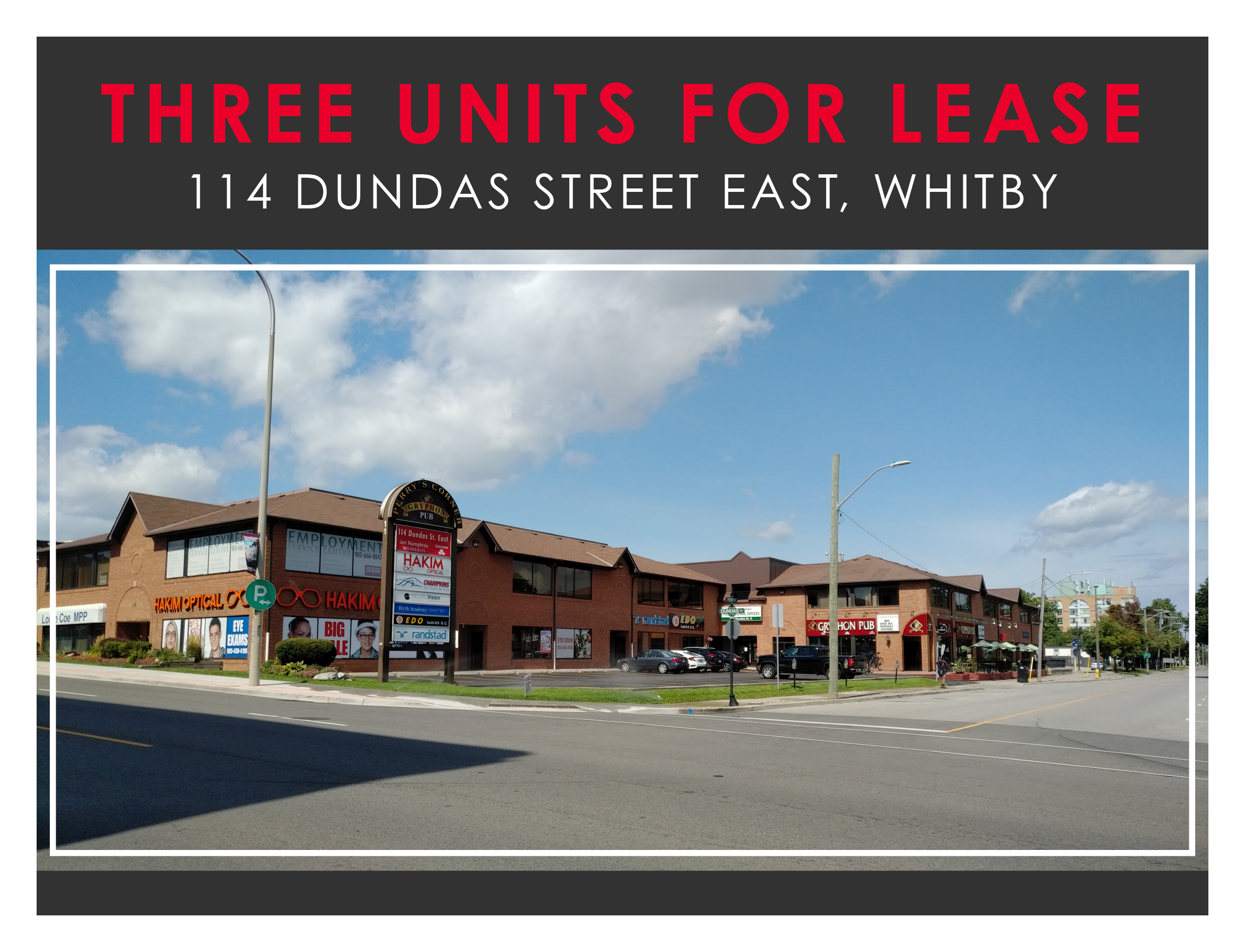 FOR LEASE | 3 Commercial Units | Whitby, ON
114 DUNDAS STREET EAST
Great downtown Whitby location, corner of Perry & Dundas
Onsite parking + street & Municipal parking
Elevator access for the second floor
Good mix of professional tenants
Second-floor units 201 & 204 can be combined to create 5,103 SF
TMI includes Taxes, Maintenance, Water & Insurance. Gas & Hydro is extra
For all details on these units, including detailed availability and prices, please reach out to;
Chris Tyrovolas
Broker
ctyr@royallepage.ca
For Lease | 2,050 SF 2nd Floor Office Space | Whitby, ON
223 Brock Street North, Unit 204, Whitby, ON
$14.00/Net Rent/SF + HST
$12.00/SF TMI Includes Hydro, Heat & Water
2nd Floor Office Space 2,050 SF
High End Finishes 
Private Balcony
4 Private Offices
Corner Unit with Perimeter Windows & Natural Light 
Surplus Parking On Site
For complete details on this property, please reach out; 

Chris Tyrovolas
Broker 
ctyr@royallepage.ca 

https://www.commercialchris.ca/listings

Susan Johnston
Sales Representative
susanjohnston@royallepage.ca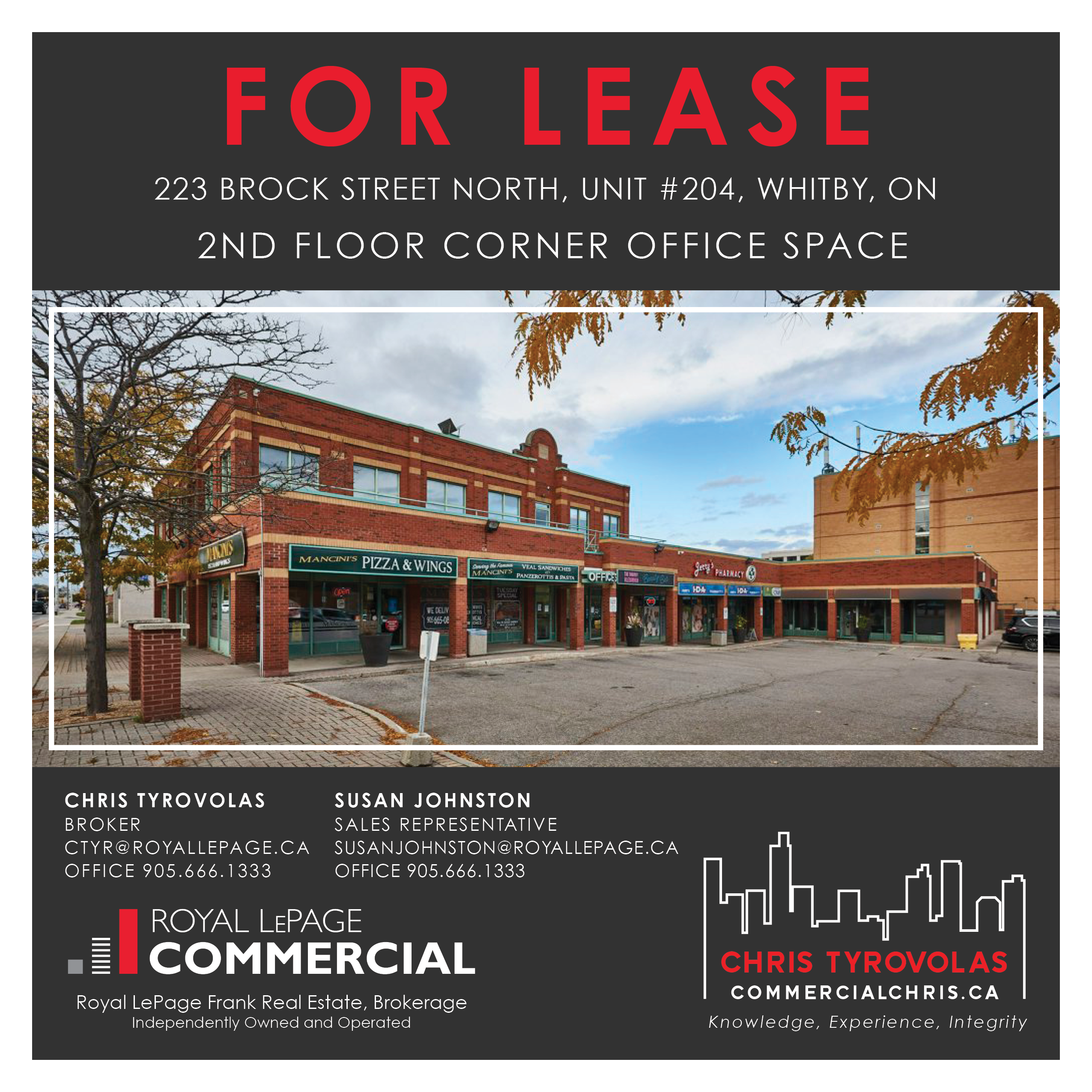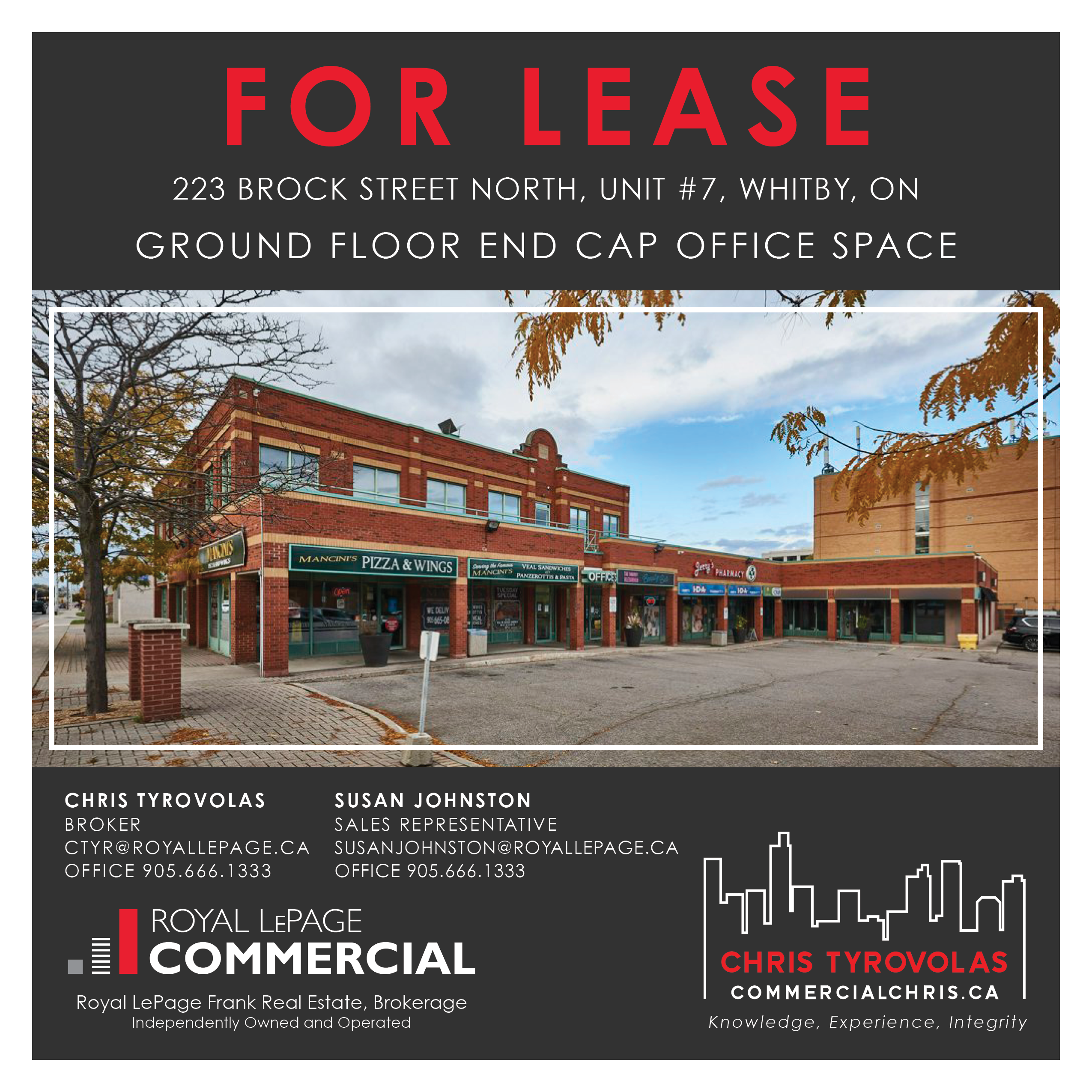 For Lease | 6,672 SF Ground Floor End Cap Office Space | Whitby, ON
223 Brock Street North, Unit 7, Whitby, ON
$18.50 Net Rent / SF +HST
$10.00/SF TMI Includes Water
Ground Floor End Cap Office Space 6,672 SF
18 Private & 2 Double Offices 
Open Concept Work Space with Skylights
Full Kitchen
Accessible
Surplus Parking On Site 
For complete details on this property, please reach out; 
Chris Tyrovolas
Broker 
ctyr@royallepage.ca 
Office 905.666.1333 
Susan Johnston 
Sales Representative
susanjohnston@royallepage.ca
Office 905.666.1333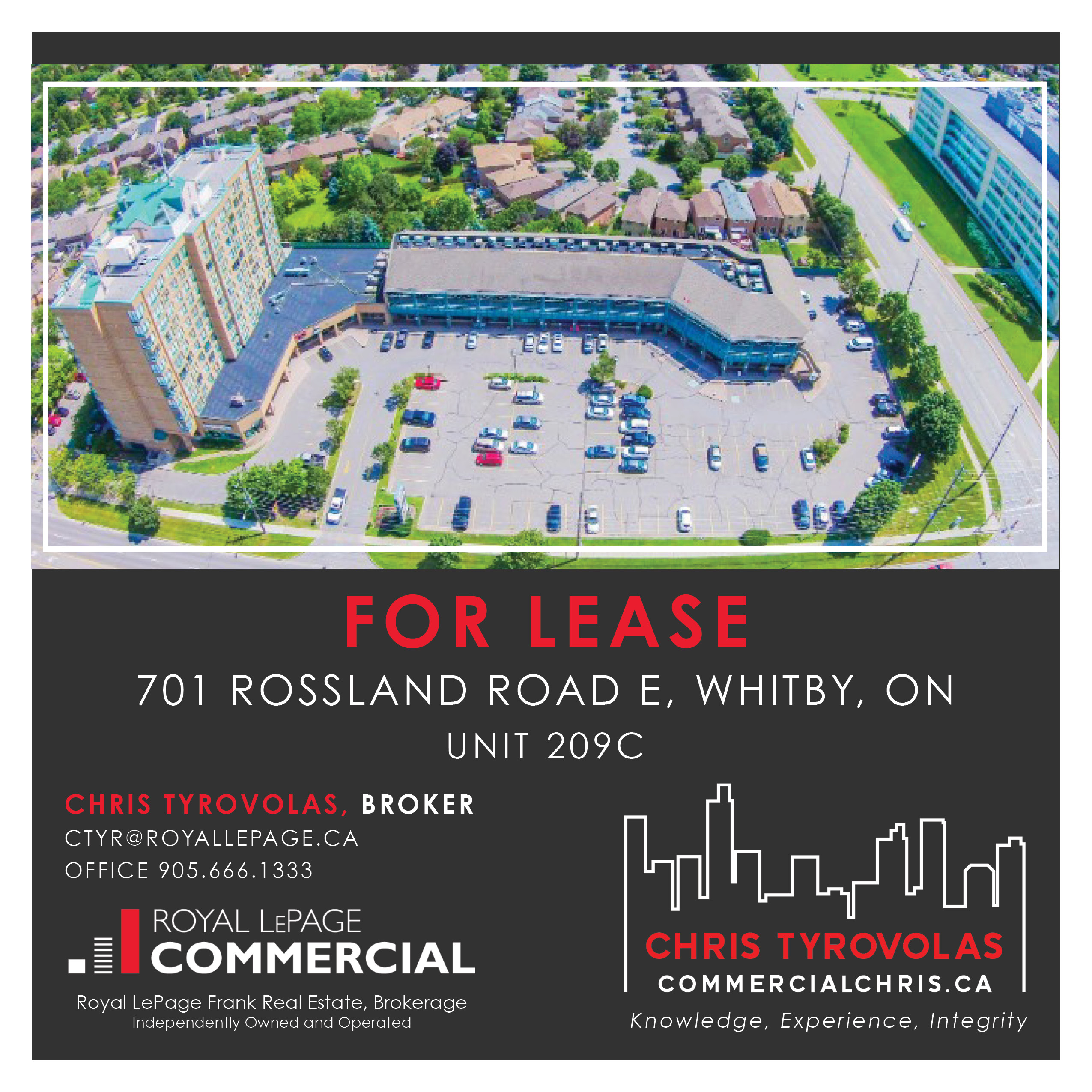 For Lease | Prime second floor office or showroom | Whitby, ON
701 Rossland Road. E, Whitby, ON
PROPERTY FEATURES
Prime second floor office or showroom
Ample surface parking plus additional underground and plaza parking
Excellent mix of office, retail, service and restaurant tenants
Adjacent to the Regional and Municipal offices, high exposure, high traffic location
Common Area Maintenance /Taxes $11.54/SF includes heat. (Hydro additional)
UNIT OVERVIEW 209C 
Basic Rent: $14.00 SF 
CAM/Taxes: $11.54/2022/T&O 
Zoning: Office/Retail/Service 
Total Area: 1,447 SF 
For Complete Information, Please Reach Out;
Chris Tyrovolas
www.commercialchris.ca
ctyr@royallepage.ca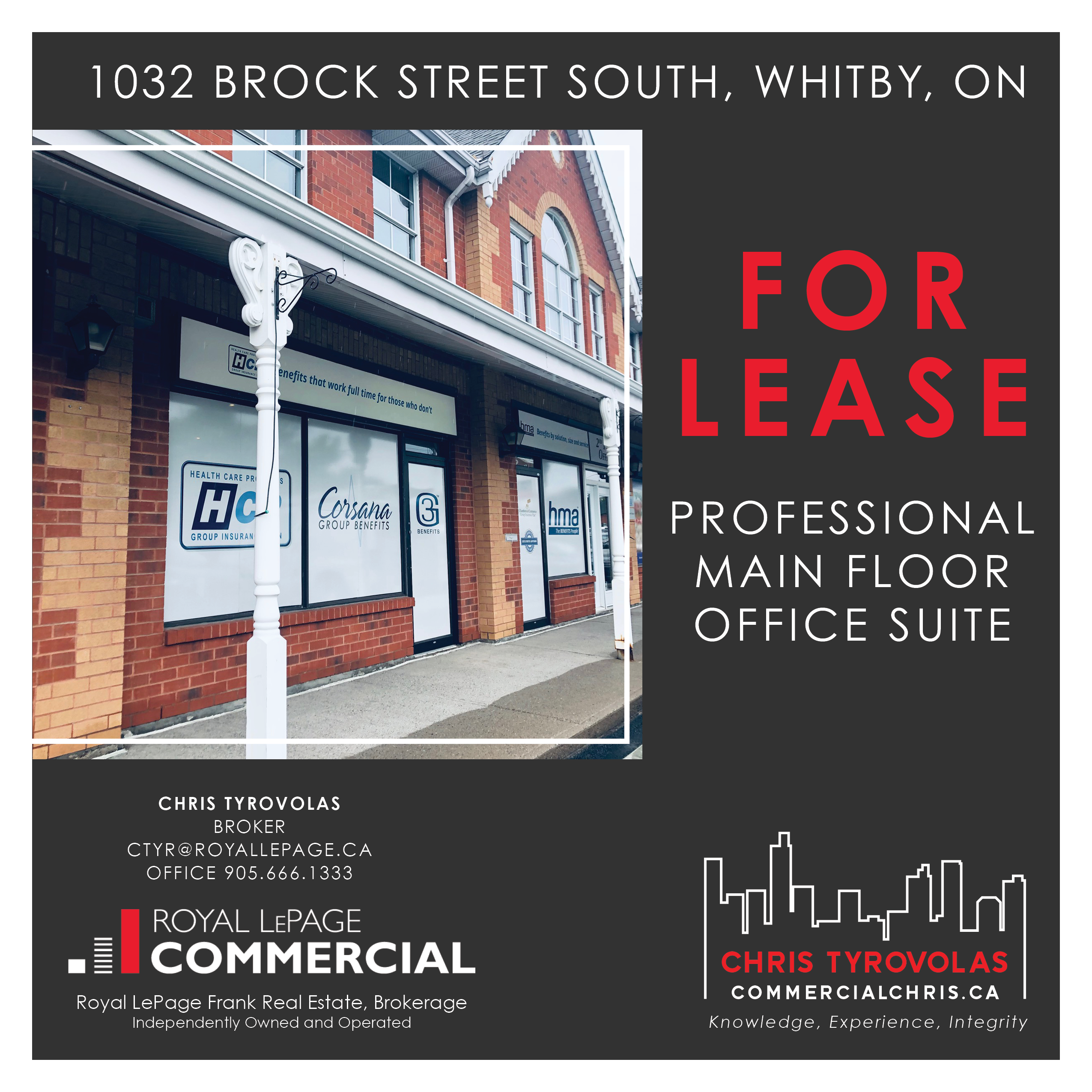 FOR LEASE : PROFESSIONAL MAIN FLOOR OFFICE SUITE
1032 BROCK STREET SOUTH, WHITBY, ON
Beautifully Finished Main Floor Professional Office Suite
1,131.1 SF Main Floor Professional Space
3 Private Offices, Open Floor Plan, Reception, Kitchenette & 2pc Washroom
Large, Bright Windows
Ample On-Site Parking
Convenient Location, Just North of the 401
Hydro and Gas are additional & separately metered
For more on this property, please contact me directly; 
Chris Tyrovolas, Broker
905.666.1333 |
ctyr@royallepage.ca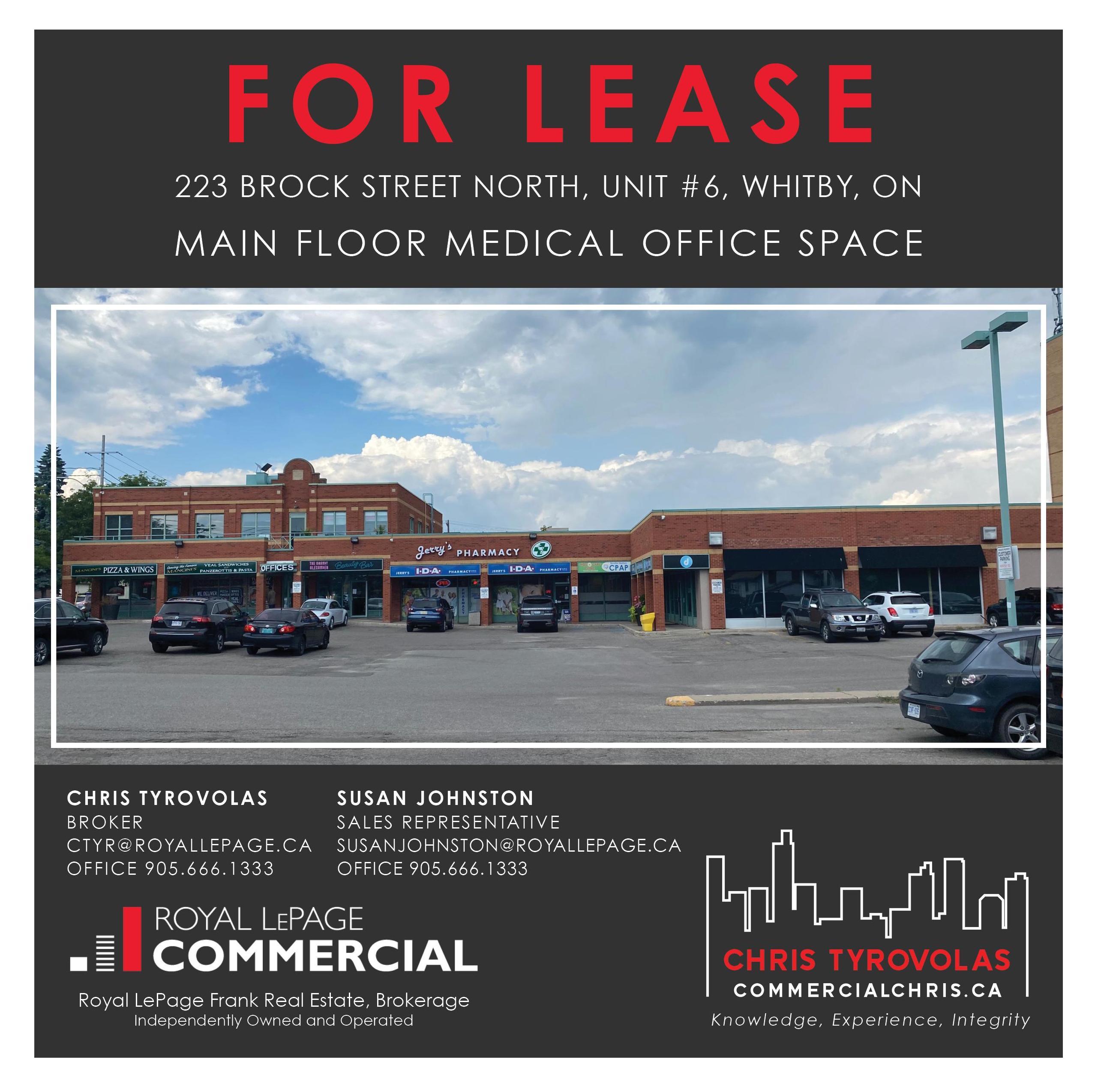 FOR LEASE | MAIN FLOOR MEDICAL OFFICE SPACE | WHITBY, ON
223 Brock Street North, Unit 6, Whitby, ON
+/- 850 SF of main floor Medical Office space with 4 treatment rooms & large bright reception. 
Fully Accessible. Includes Hydro, heat & water. Includes built-in cabinets in exam rooms & front reception desk.
 
For more on this property, please contact;
Chris Tyrovolas | ctyr@royallepage.ca
Susan Johnston | susanjohnston@royallepage.ca

Commercialchris.ca 
FOR LEASE | 2,800 SF TURNKEY YOGA/ FITNESS STUDIO | DOWNTOWN OSHAWA
1 Simcoe Street North, Oshawa, ON
Highest profile corner of downtown Oshawa (Simcoe and King)
2,800 square foot turnkey yoga/fitness studio 
Floor to ceiling windows allow for maximum signage exposure
Over $400,000 in high quality leasehold improvements
High daily pedestrian and auto traffic counts
Ideal for yoga, fitness, spa, or wellness business
Equipped for Hot and Cold Yoga 
Two entrances with separate reception desks
Separate men's and women's washrooms with showers
Previous Yoga studio was well known and the winner of several Oshawa Business Awards of Excellence
For complete details on this property - please reach out to the listing agents directly;
CHRIS TYROVOLAS
Broker
ctyr@royallepage.ca
Office 905.666.1333
SUSAN JOHNSTON
Sales Representative 
susanjohnston@royallepage.ca
Office 905.666.1333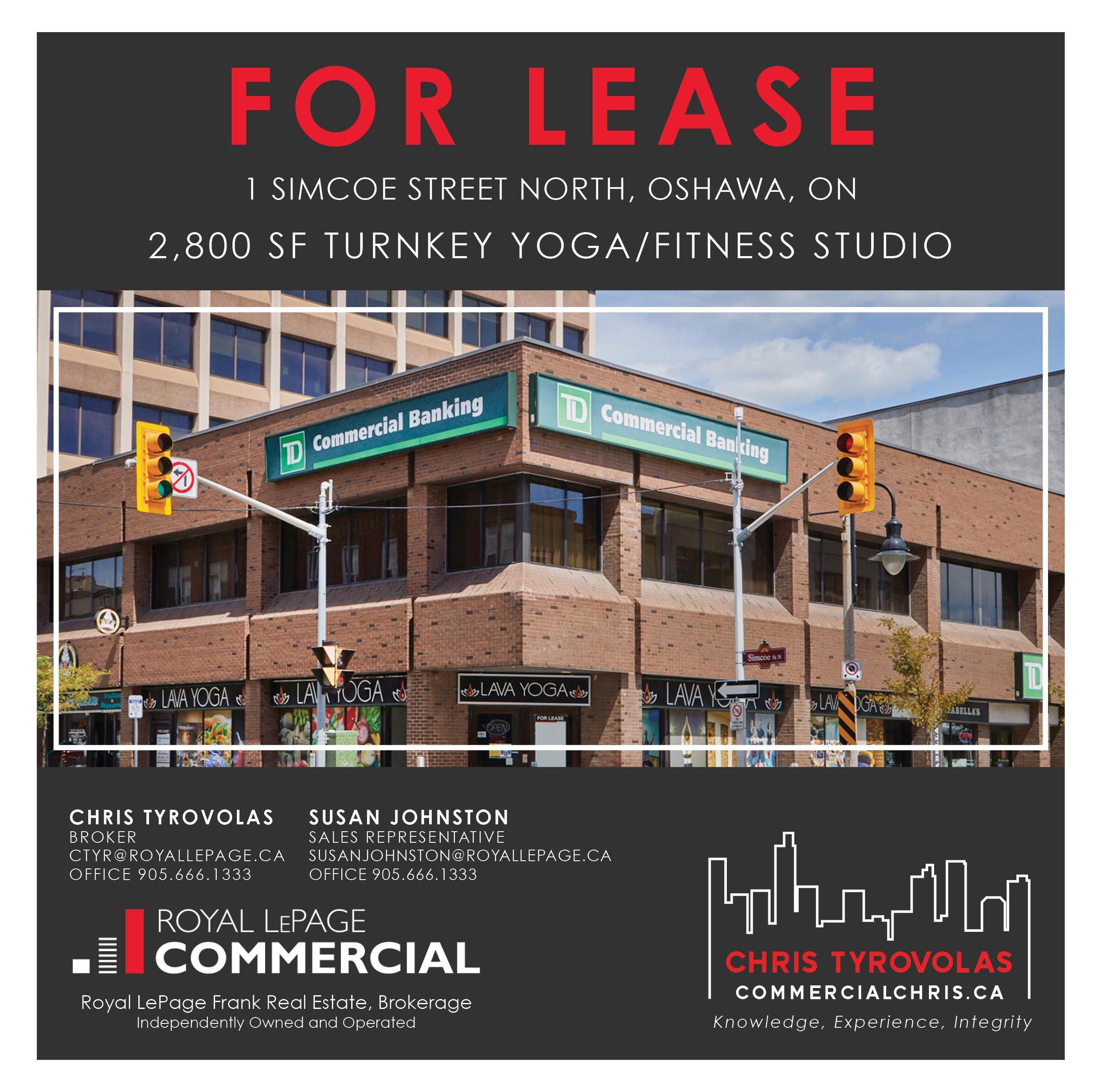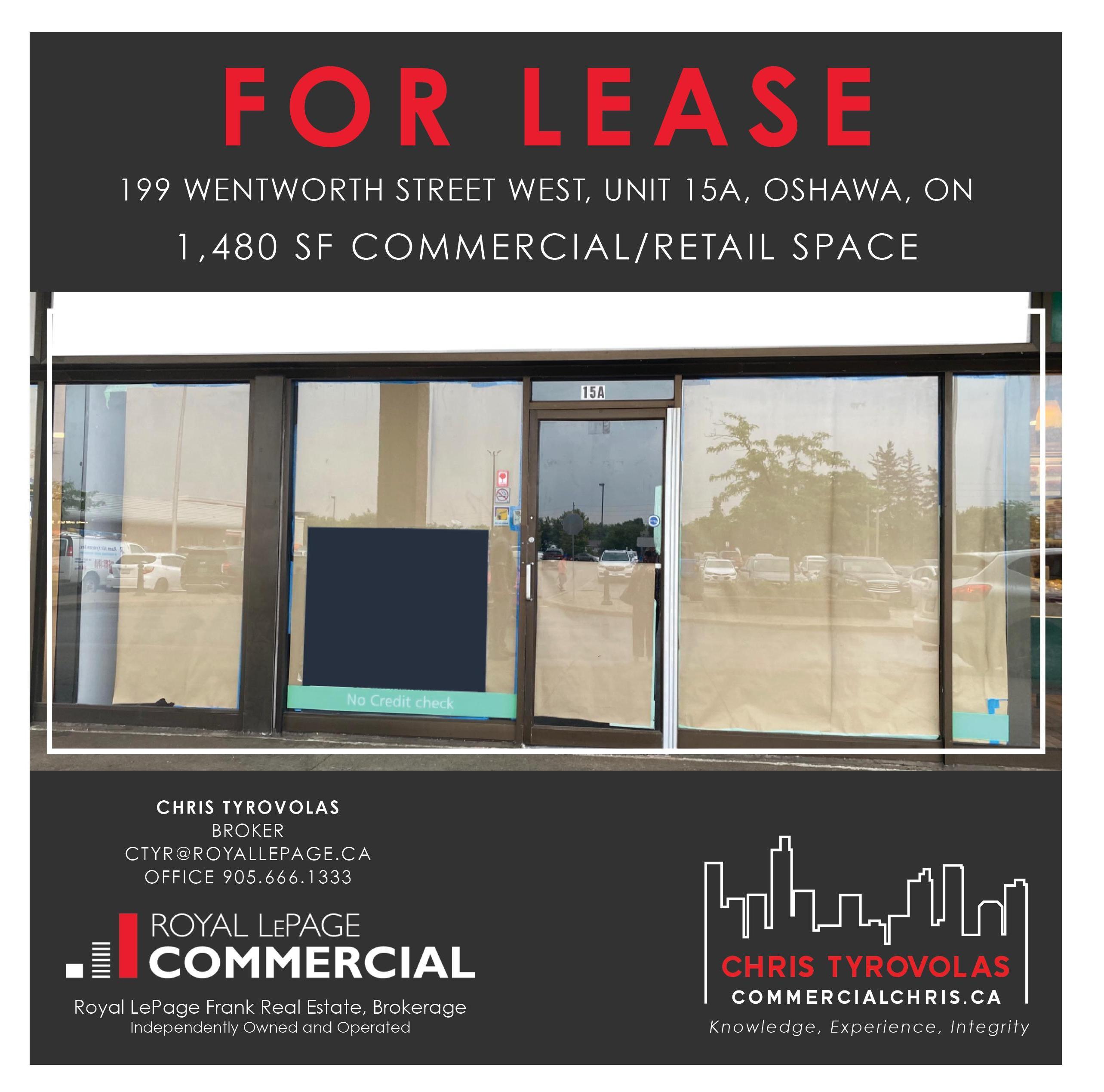 FOR LEASE | 1,480 SF COMMERCIAL/ RETAIL SPACE | OSHAWA, ON
199 WENTWORTH STREET WEST, UNIT 15A, OSHAWA, ON
PROPERTY FEATURES
Located in Lake Vista Square Shopping Centre
Excellent mix of retail, service and restaurant tenants
Anchor Tenants: FreshCo, Shoppers Drug Mart and LCBO
Plenty of On-site parking
UNIT OVERVIEW
UNIT 15A
Commercial/Retail Space
Base Rent: $29.00/SF
TMI: $10.80 Zoning
Permits: Office/Retail/Service/Food
Total Area: 1,480 SF
For complete details please contact;
Chris Tyrovolas |
ctyr@royallepage.ca
FOR LEASE | 1,742 COMMERCIAL RETAIL SPACE | OSHAWA
1300 KING STREET EAST, UNIT 15, OSHAWA, ON
Grocery Anchored Shopping Centre Located In busy intersection at Townline & King St E.
Excellent mix of retail, service and restaurant tenants
Plenty of On-site parking
Rarely any small vacancies in this shopping centre 
UNIT OVERVIEW
UNIT 15
Base Rent: $28.00/SF
Taxes: $4.50/SF CAM: $2.75/SF
Total Area: 1,742 SF
Features: Next to Anchor Store, Rear Door
Access for Deliveries 
Please reach out for complete details ; 
Chris Tyrovolas | ctyr@royallepage.ca
www.commercialchris.ca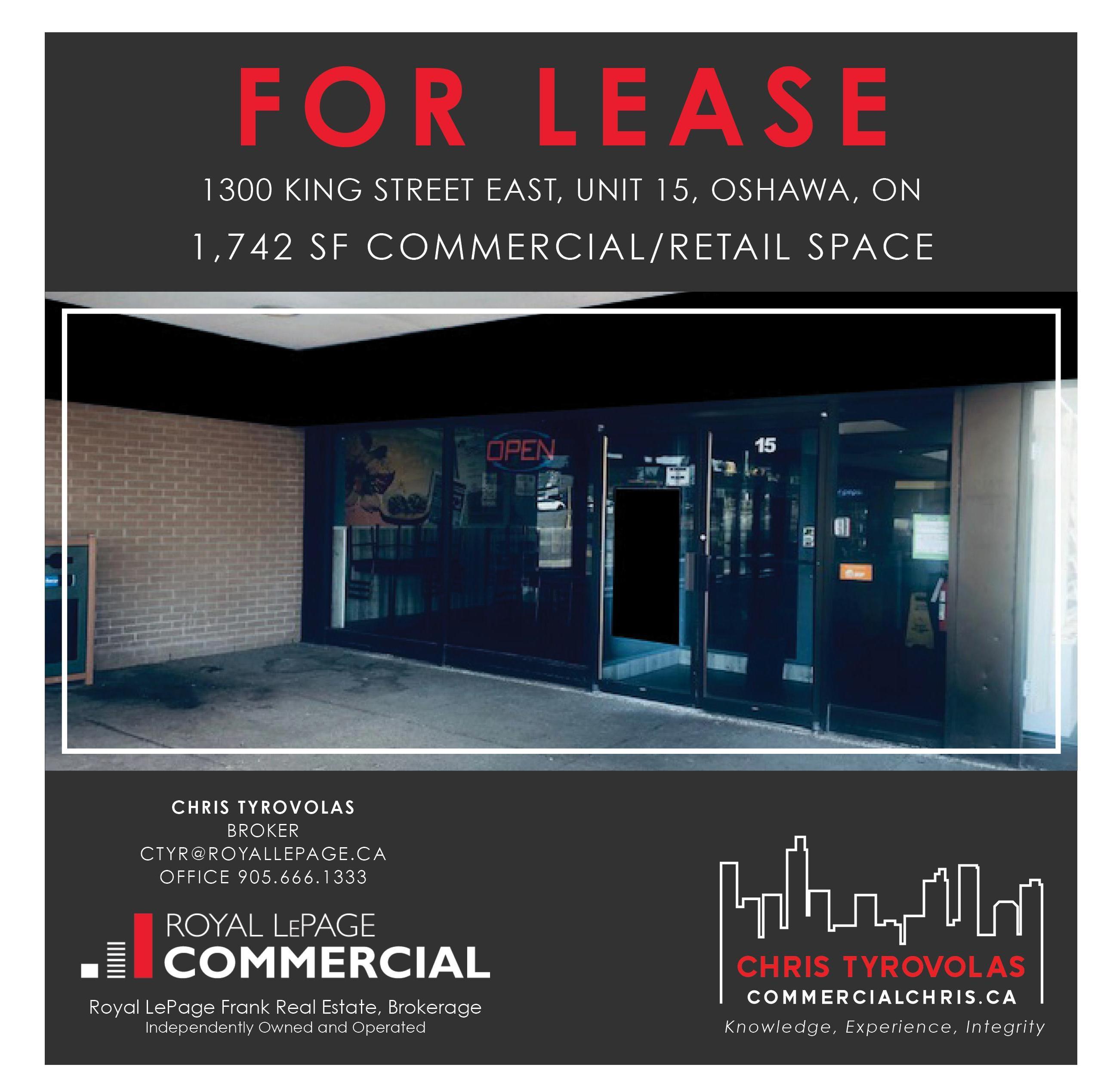 Exceptional Investment Opportunity For Sale: THE BROCK BUILDING
FOR SALE 3 STOREY OFFICE/RETAIL MIX
"The Brock Building"
Exceptional Investment Package!
This 3 Storey, 16,000 Sq Foot Office & Retail Mix Offers Savvy Investors A Rare Combination Of Location, Stable Tenancies, Rental Upside, Building Upgrades & Vendor Financing All At The Incredible Asking Price Of Just Over $300/Foot.

Located At The 4 Corners Of Downtown Whitby. Well Managed. Elevator On Site.

Owner Retiring After Almost 35 Years Of Ownership.

Gross +$323,000/Annum. Noi - $227,000/Annum.
This Is A Gem.
**** EXTRAS **** Main Roof (Tpo) 2014, App Membrane On Smaller Roof Section 2021.

Don't miss this rare opportunity to acquire a highly sought after asset.

Please reach out for complete details ; 
Chris Tyrovolas | ctyr@royallepage.ca

www.commercialchris.ca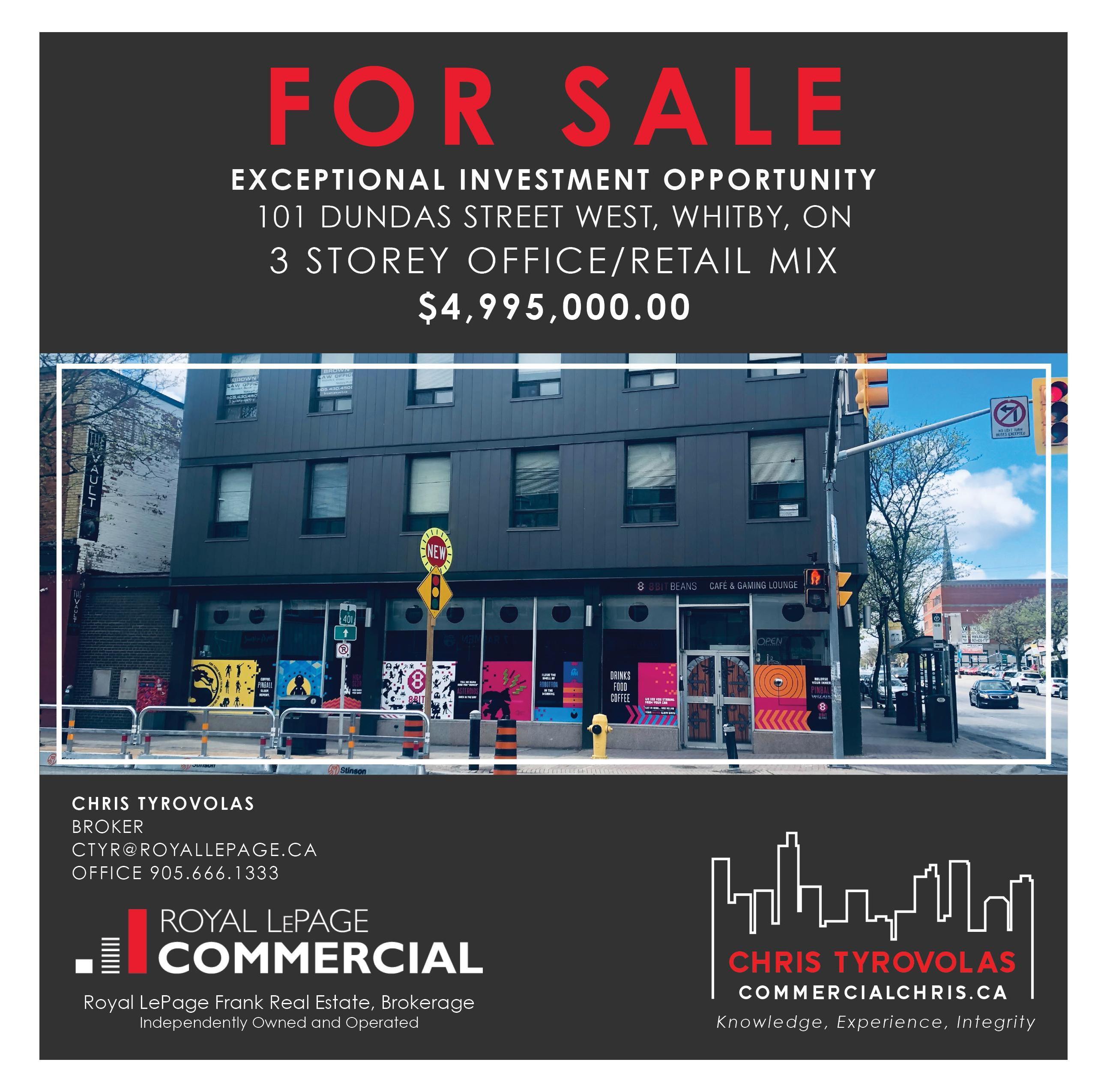 Unique Industrial/Residential Property In Central Whitby.
600 Garden Street, Whitby
600 Garden Street is a unique mixed-use property with Industrial zoning in Central Whitby. There are 2 principal buildings on 1.12 acres. One is a +13,000 SF industrial building. The second is a 3 bedroom, 2 and a half bath residence about 1,600 SF. Both buildings are well maintained and updated.
Ideal property for contractors, trades, and light manufacturing.
Owner has obtained approval for professional office uses.

This property would suit a buyer who wants to run a business and live on site.
Renting parts of the property can also create a steady income for a savvy buyer.
Don't miss this one of a kind opportunity!

Please contact the listing broker for more information;
Chris Tyrovolas - Commercial Real Estate
Broker
ctyr@royallepage.ca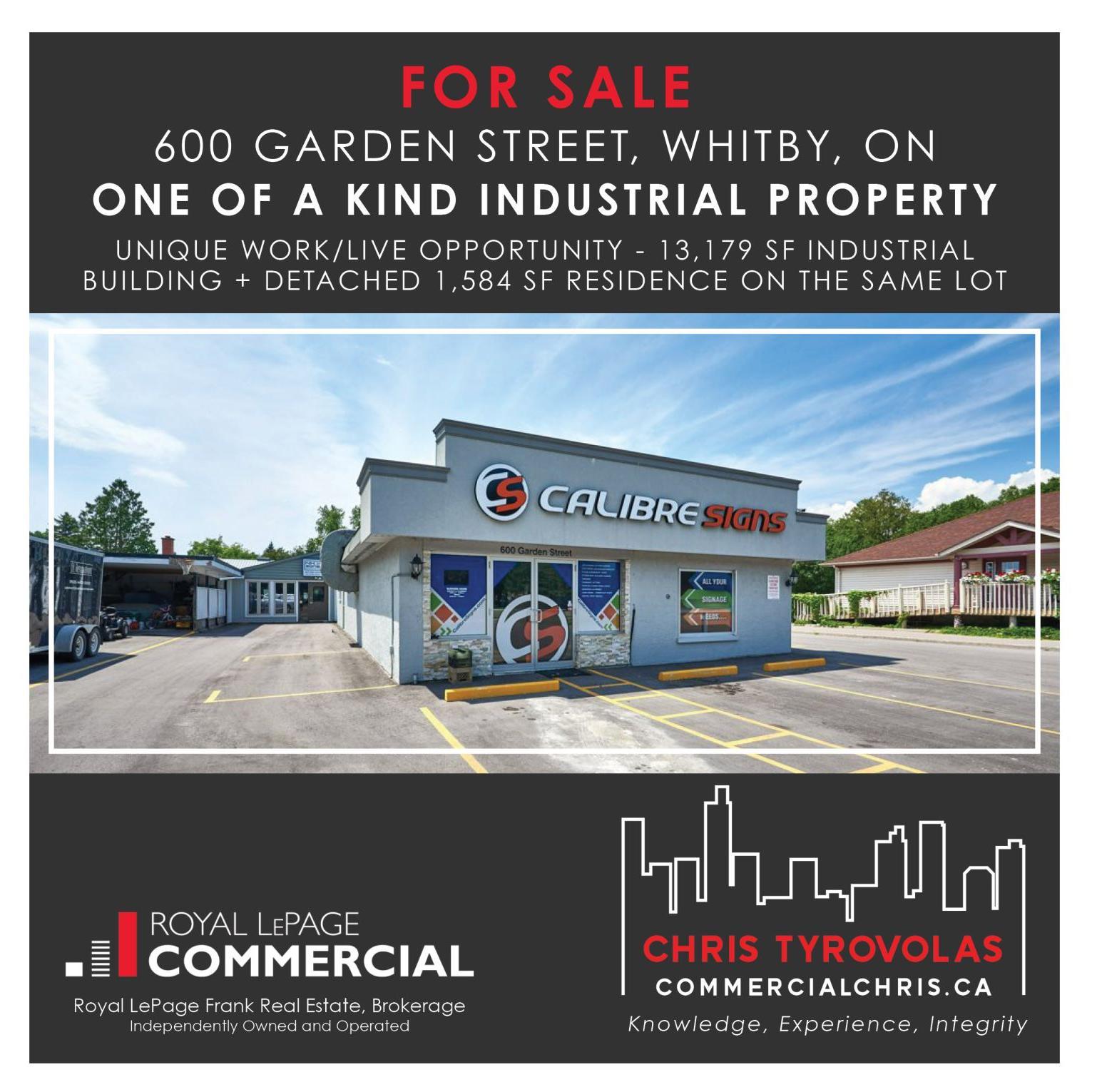 All fields with an asterisk (*) are mandatory.
Invalid email address.
The security code entered does not match.